UPD as of March 2023:
The paternity of my son which was questioned by my ex-husband is now officially proved by the leading American lab. My ex-husband wrote me a letter of apology. We're moving forward with the case. He already started paying child support. 
I'm very grateful for your help and support, for all your donations and kind words! You helped me to stand in my darkest times. May you always be blessed for everything you did for me and my little son!
I removed the "Donation" button but decided to leave my story itself here. Also, please, enjoy your free download of my most recent album "Aria".
---
I'm a double survivor. Tough 2021 and 2022 are marked by my ex-husband's harassment and the current Russian-Ukrainian war...
In both cases lies, manipulations, and demonstration of power against the peaceful innocent victims have place. 
It's scary when the criminal law defense lawyer, the father of your child, treats you like his personal enemy #1 and does his best to fabricate a case against you. For no reason. For no guilt. Just because you're a mother of his child. Just because he wants to do so and can afford it.
It's terrifying when your so-called "brother nation" demolishes your native city with cruise missiles and vacuum bombs targeting residential areas, hospitals, kindergartens, and orphanages...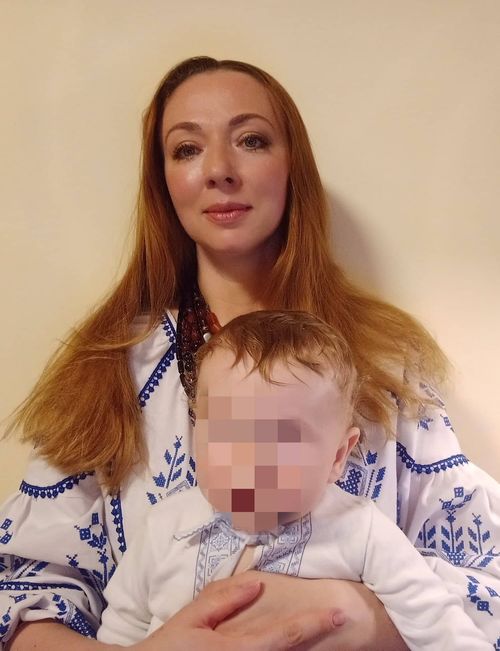 My 15-months-old son, Andrew, and I, Olena Karpenko (stage name Solomia), both are Ukrainian citizens. I'm a musician, writer, and cultural diplomat of my nation. I composed a musical play and spent 2.5 years in the USA on a visa for talents (2018-2021).  
Andrew's father is a Yale Law School alumnus, a lawyer licensed in NV and CA. He's smart, charismatic, attractive, eloquent, tall, and strong. No wonder I fell in love very fast. We started living together. We talked about having family and kids lots of times. We were traveling and enjoying our lives together.  
Inspired by love, I created my "ARIA" album in a very short period of just a couple of months (2020).  
The fairy-tale ended right at the moment when I told my boyfriend that I was pregnant. "Shit. You'll have a bastard," – that was his first reaction to the news.  
I never asked him to marry me, but gladly accepted his proposal when he seemed to make up his mind.  
However, just 3 weeks after we wed, he tried to kick me out of his house in the middle of the night in January 2021: "Get out of here! Buy yourself a ticket and leave! The fact that we're married doesn't necessarily mean that we should live under one roof!" 
Starting from January, and increasingly to March, his abuse only escalated. His attitude towards me changed from idealization to constant yelling, humiliation, and offense. He named our baby a "mistake", he called me a "silly piece of shit". Each time I felt sick he would ask (with hope in his eyes): "Is it a miscarriage?" 
In March, during one of his bursts of anger, he shouted: "Buy yourself a ticket and leave!" 
I answered: "That wasn't you who brought me to America. I made it here thanks to my talent and hard work. And that won't be you who would tell me where should I stay or where should I go". 
He replied: "Right, that wasn't I who brought you here, but it's I who controls your stay in the USA! I revoke my signature under your [marriage-based green card] documents. Leave!"   
This happened just 6 weeks before my working visa expired. I was in my 5th month of pregnancy by then.  
I was never exposed to behavior like that in my life. I was psychologically ruined. Very timely, the book, "Women Who Love Psychopaths"  by Sandra Brown fell into my hands, and it opened my eyes.  
In April 2021, respecting the law of the USA, and personally seeking a peaceful atmosphere to deliver my kid, I flew back to Ukraine before my visa expired.  
In June 2021, when I was in my 8th month of pregnancy, a private investigator delivered me divorce papers. In these documents, my ex-husband stated that he was not the biological father of my child.  
The first hearing was scheduled for the same day as my C-section. Thank God it was rescheduled. The interlocutory order, issued in September 2021, obliged me to take the 22+ hours flight to the USA with my (90-120-days-old) baby for the face-to-face DNA test. However, at the second hearing in November 2021, the Judge suggested that we should meet with my ex-husband at some clinic or lab in the EU. 
My ex-husband got enough evidence stating that it's his baby (my son's DNA profile and my medical records). However, he wasn't interested in officially revealing the truth. So shortly after the second hearing, he submitted the motion for a summary judgment of his non-paternity meaning that he basically wanted to avoid or sabotage the formal DNA test, to receive a "technical" decree of non-paternity, skip the DNA procedure, and save costs on child support. 
My ex-husband aims to become a politician, but here are his loyal ex-wife and his own son in the way of his political future. He abused us too much, and now he's afraid that this story may negatively impact him and his dream. So he not only lied but acted dishonestly in secret.  
He sealed the divorce/paternity case which he initiated just days after filing our joint tax return, lied in pleading papers, manipulated facts, violated my rights by blocking the Ukrainian Consul's access to the hearings, and intentionally exaggerated the cost of the case so that I won't be able to protect myself anymore.  
The Ukrainian Ministry of Foreign Affairs and the Ukrainian Consulate in San Francisco filed an official protest to the Department of State. In order to protect myself against offensive and untruthful accusations, I needed to appeal. The case was already called an example of "shocking xenophobia and overt discrimination". (Please, see the case on the site of the Supreme Court of Nevada here, click on 21-37159 to download the Petition. Supportive documents associated with the case in the District Court of Clark County, NV, are available on the same page). 
In order to be a "good guy" for his family and potential voters, my ex-husband needs to portray me as a "bad lady." To do so, he stated to the Court that I conceived my baby with someone else to "make him marry me" and "aimed" to receive a green card in a fraudulent way.  
These are ABSOLUTE LIES. It's his baby. There was no fraud. There was love. And a betrayal. By him.  
He defames me by using the shameful image of a "Ukrainian whore" to destroy my reputation as a cultural diplomat of my nation – a highly respected person with deep faith, Christian values, and morals. He constantly offends me, my family, and the country of Ukraine in the pleading documents. 
Taking advantage of his professional skills as a former prosecutor, he uses the current divorce/paternity case to fabricate a criminal case against me.  
My one and only power against all his brutal and offensive accusations is the truth. We need to pass the DNA test which will officially reveal his paternity and ruin his lies.
On February 22, 2022, at the third hearing, the Court ordered us to do the DNA testing locally (USA / Ukraine) taking into account a very tense political situation in Ukraine and a very high life risk of travel for single mother with an infant.
Just 26 hours after that, the Russian army invaded my native country bringing a tragedy - war, ecological and demographical catastrophes, and genocide of the Ukrainian nation.
This divorce/paternity case, in which I've been involved for almost 17 months already, drained all my family's funds and savings. Both, this case and the war left me with no sources for living with an infant on my hands.
As of today, the amount paid to the lawyers already exceeded $50,000. With this money, I could have lived my humble life in Ukraine with my kid for at least 3 years. We could have definitely revealed my ex-husband's paternity by means of passing a DNA test long ago without spending so much time and money if there won't be my ex-husband's will to make the process as long and as offensive as possible. 
I signed a $0 prenup to prove that his money wasn't my reason to marry him. I'll never have any rights for alimony, or heritage, and never will benefit from his life insurance, properties, or anything else. He didn't ever support me or our baby financially – neither before, nor after I left for Ukraine. I covered all pregnancy and baby-related expenses out-of-pocket while he bought 7 properties during 2021.  
War is a terrible thing. I wish my family would never experience one...
Now I stay with my little son and senior parents in Ukraine, away from my native beautiful Kyiv while other cities are being demolished by Russian bombs and rockets.
Ukraine fights against the lies of Putin, and I fight against my ex-husband's lies.
I stand for fair justice, for my baby boy's future, for my good name, and for our chance for a normal life.
I did nothing wrong to be treated this way. I only had an illusory dream of having a happy family with a man whom I loved, but I was mistaken in choosing a life partner.
Ukraine did nothing wrong to be bombed. Its bad luck is just one psychopath's desire to capture it no matter what.
My little son and I believe in the Lord's mercy and hope for the best on both battlefields - legal and physical.
We are grateful for your support and truly believe in miracles.
Olena and Andrew